---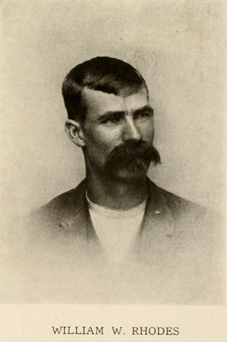 WILLIAM WALLACE RHODES is one of the industrious farmers of Lincoln county and his estate lies about four miles northeast from Creston. He was born in Missouri, on August, 1861, being the son of William Wallace and Sevilla J. (Hall ) Rhodes. The father was a native of Ohio and in 1862. started on a journey overland to California. Owing to the hostilities of the Indians, he stopped at Salt Lake City where he remained for a time, then he returned to Denver, reaching there just before the serious Indian outbreak. He was chief of police in the city of Denver for a long time, and died September 29. 1879, in his fortyfourth year. The widowed mother then married H. F. Warren, a native of Vermont and a veteran of the Civil War. He is one of the earliest settlers in this part of Washington. Our subject was taken by his parents from Missouri to Salt Lake City when an infant and then to Denver, in which place he received his education. In 1875. he went to Del Norte, Colorado, where he was engaged in freighting for a number of years. In 1882, he came thence to Sherman. Washington, and settled on a farm.
Since that time he has given his attention largely to farming and also to buying and selling realestate. He now owns a nice place as mentioned above and is occupied almost entirely in tilling the soil. In 1891, Mr. Rhodes married Miss Anna, daughter of John and Mary (Wynhoff) Verfurth, and niece of H. S. Wynhoff, mentioned elsewhere in this work.
Mrs. Rhodes was born in Wisconsin, on April 9, 1860. To Mr. and Mrs. Rhodes two children have been born, Survilla M. and Hilda Wvnona. Mr. Rhodes has been on the frontier all his life and is a typical pioneer. He has traveled many thousands of miles and almost entirely by team, having ridden on the cars but a very few miles in all his journeyings.
Source: An illustrated history of the Big Bend country, embracing Lincoln, Douglas, Adams, and Franklin counties, state of Washington
Author: Steele, Richard F; Rose, Arthur P
Published: [Spokane, Wash.] Western Historical Pub. Co., 1904